Yepeeeeeeeee...... this is my very, very last day at the office! End of contract..... which means that within 2 weeks I'll be moving to beautiful London! Oh Jesus, time flies by, huh? And I haven't done a single thing since I got to the office... so far, I've replied to all my mails (seems like the whole planet sent me an email this week-end ...... result, I've got more than 30 mails !!!), checked the forums, browsed for jobs in London, and checked the Loot website !!! And now I am bored to death ... I'll probably go chat with all my collegues, drink a cup of tea and get bored again, eh eh !!!

Anyway, went to the DEEP PURPLE gig yesterday ....... holly god, that was bloody amazing! No - that was even better than that... erm, tremendous.... awesome ...... PERFECT !!!!!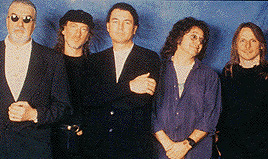 I had been waiting for that gig for years... believe me, I've been a massive fan of the band since the tender age of 10 and had never had the opportunity to see them live before! That was a dream coming true honestly! Dad came with us aswell.... he was gobsmacked and a silly grin got stuck in his face for all the gig! I am so happy he was happy... dad's been a Deep Purple fan since he's been in his 20 -ish ..... and never been able to attend any of their gigs for different silly reasonss! But this time he was there ..... he could see them with his own 2 eyes and I felt so good to see him that pleased !!!
And Steve Morse ......... Steve Morse !!!!!! Jesus Christ ..... he's been amazingly brilliant! Wawwww ....
---